With rising coronavirus cases and new restrictions coming in for various parts of the country, going around in groups from house to house and knocking on people's doors for Halloween this year is a no no.
The same goes for Halloween parties.
But for many children, Halloween is such a much-loved time in their year, many parents and families will be reluctant to send it to its grave this year.
And you don't have to. 
There are plenty of ways you can enjoy Halloween at home as a family.
From crafts and costumes to ghost walks and games, below we outline just a few activities and ideas to keep you busy over half term and keep the spooky spirit of Halloween alive in your household.
Creepy crafts and dastardly decorations
Making your own decorations this year will give you something do during half term in the run-up to Halloween.
And if you use paper and card then you can recycle them without masses of plastic ending up in landfill.
Paper garlands, banners and paper chains are a cheap and easy way to decorate your home.
A string of witches hats made from felt or paper looks amazing, or try witches stripy tights.
An increasingly popular trend is to decorate doors for Halloween.
Give children a small 'door' template made from card – let them create their own spooky design and try to recreate it on your front door at home.
All you need is some masking tape, paper plates for eyes and crepe paper. 
You could even challenge friends and neighbours to a best decorated Halloween door which might also be a nice way to raise some community spirit in these gloomy times and in the absence of trick or treating.
Ghoulish games and awful activities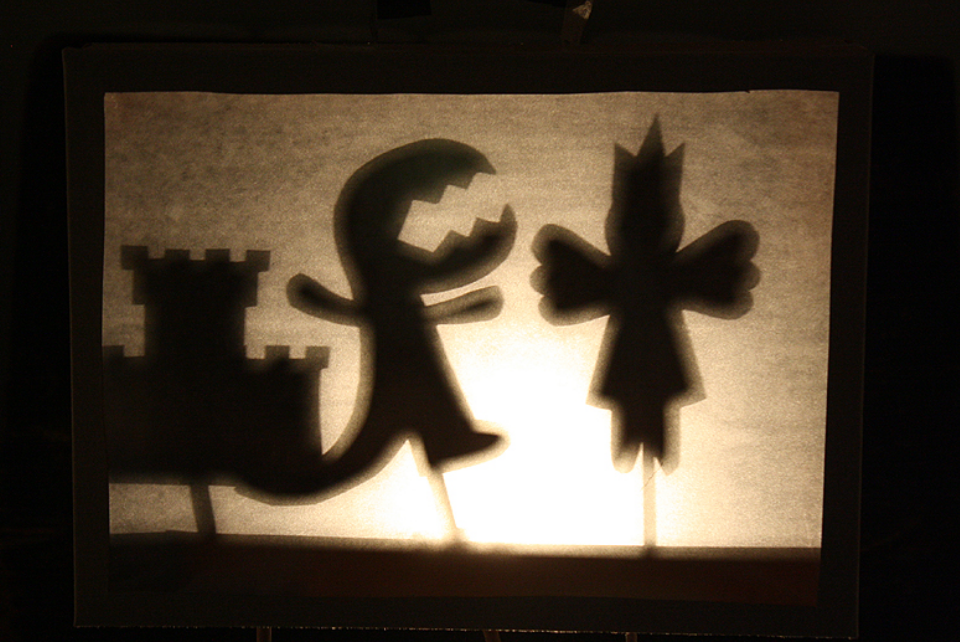 Shadow puppet show
Make shadow puppet ghosts and ghouls - all you need is cardboard shapes, a clean wall and a torch.
Or make a shadow puppet theatre using a cereal box (see right).
Why not use this spooky Halloween music mix from CBeebies as your soundtrack?
You could even film your show and share it with friends on WhatsApp.
Pumpkin decorating
If your children are too small for pumpkin carving, try pumpkin decorating instead. 
Buy some small pumpkins, PVA glue, pom poms, scraps of paper, streamers, stickers or some googly eyes and get messy.
You could sit down as a family and do it together and award a treat or prize to whoever has decorated their pumpkin the best.
The Mummy game
Simple but effective this involves letting your little ones wrap up Mummies and Daddies in toilet roll to create their own-real life Egyptian mummy.
If you have two parents/carers and two children or more you could create teams and have each team race to wrap up their grown-up first.
Apple bobbing
The classic Autumnal game where participants need to grab an apple from a barrel, bucket or bowl of water using only their mouth. Have lots of towels handy!
Party time
Make or choose a playlist of spooky Halloween tunes with your children, get your best costumes on, turn the lights down and have a disco party!
Seeing as there's no Halloween theme on Strictly this year it's the perfect opportunity to create your own Halloween routines.
Pre-arrange a time with friends and family to Zoom or Skype so children can show off their costumes and Halloween make-up. 
Terrifying treats
With no trick or treating on the menu this year (parents and dentists everywhere breathe a sigh of relief) maybe this year might be an opportunity for the whole family to create some wholesome healthy Halloween treats.
Have a go at these easy ideas from Cleverly Me - satsuma pumpkins, banana ghosts with choc chip eyes and cheese and pretzel spiders.
Venturing out
Even though trick or treating is not being encouraged there is nothing to stop you taking their little ones for a ghostly early evening walk to see how others have decorated windows and doors.
Young children love the thrill of being out after dark and can still dress up in their costumes – the big no will be knocking on other people's doors.
Maybe you could even turn your walk into a scavenger hunt and try and spot different spooky things using this free scavenger hunt checklist from Twinkl.
 However you choose to celebrate - we wish you a truly horrible Halloween! 
---