One of the (many) challenges of being in lockdown with young children, is the relentlessness of meal times. Our little people need feeding ALL THE TIME, or so it seems. No sooner have we got lunch cleared away, then a few short hours later it's time to start thinking about dinner. To help us out, one of the UK's best-known children's cookery writers, Annabel Karmel, has kindly shared with us some top cooking tips and hacks for some quick, easy and healthy meals using simple store cupboard goods and even slightly expired ingredients.
Hack 1: Preparing a meal when you're feeling lazy
Family cooking doesn't have to mean spending hours in the kitchen! If in doubt, eggs are my staple ingredient. They are a fantastic food for the whole family and packed full of nutrients. The great thing is that you often have them to hand so you can always whip up a quick frittata in minutes.
Hack 2: Working with a (slightly) expired ingredient
We too readily bin perfectly good ingredients which, with a little bit of love, can be transformed into a glorious thing. Overripe bananas (the more brown spots the better!) make the best Banana Bread and there's a fantastic recipe which I make every week for breakfast in my new book Weaning Made Simple. 
Revamp vegetables which are slightly past their best by roasting them in the oven. The Roasted Cauliflower from my Busy Mum's Cookbook is so simple yet utterly delicious. The edges of the cauliflower caramelise when roasted, taking on a nutty, buttery flavor, and when you drizzle over my honey and rice wine vinegar dressing it becomes a thing of beauty.
I also love using a spiralizer – simply baking sweet potato curls in the oven with a little oil and salt and pepper turns them into the most delectable dish (and adds oodles of child appeal to everyday vegetables). If you don't have a spiralizer you can grate ribbons with a vegetable peeler instead!
Hack 3: Cooking using tinned ingredients 
A well-stocked store cupboard of cans and tins means you can still cook-up a healthy nutritious dinner for the whole family even if you haven't been able to go to the shops. After all, it takes no time at all to create a quick tinned tomato-based sauce for pasta or use a tin of chickpeas to make mini falafels or a quick hummus. 
Hack 4: Trying to please a picky palate
Around ninety per cent of children go through at least one lengthy phase of fussy eating, so rest-assured you're not alone.  My top tip for tackling a picky palate is to make the blender your new best friend! Remember – what children can't see, they can't pick out. I like making a Bolognese sauce packed with blended onions, leeks, celery, tomatoes, pepper, carrots and my secret ingredient, apple. It's delicious. 
Hack 5: Making the food look as good as it tastes
Without going to unnecessary lengths, try to make your child's food not only taste good but look good too. Make mini portions in ramekins, get creative with fruit faces on top of their morning bowl of porridge or thread chicken and colourful vegetables onto straws for some kid-friendly 'kebabs.' 
Simple dishes that kids can customise which also encourage family participation are great. Children like to assemble their own food, so you could lay ingredients out in bowls and let your child fill and fold their own wraps or choose their favourite toppings for their homemade puff-pastry pizzas.
Hack 6: Feeding a large family 
If I'm cooking for a crowd there is nothing better (or more satisfying) than a one-pot recipe – just chuck all the ingredients in and leave it to do its thing while you get on with other jobs. My One-Pot Roast Chicken (recipe below) is a delicious, easy, all-in-one meal that feeds the whole family. 
Hack 7: Substituting ingredients 
If it's not possible to get the exact ingredients for a recipe then worry not – these times are about getting creative and using what we can or have to hand. For example, my Sweetcorn & Tomato Rainbow Fritters is one of my most popular recipes – and you can find it below. However, if you don't have sweetcorn or basil to hand for example then use whatever veggie or herbs you have to hand!
---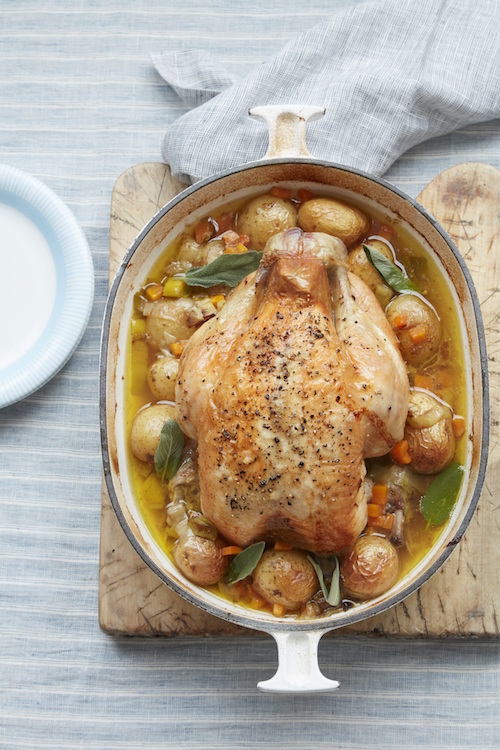 ANNABEL'S POT-ROAST CHICKEN
A one-pot recipe means more time to you get on with other jobs or spend time with the kids. This pot-roast chicken is a delicious, easy, all-in-one meal that feeds the whole family. If you don't want to use wine (although the alcohol evaporates in the cooking process) you could simply use 600ml of stock.
Prep: 10 minutes 
Cook: 1hr 15 – 30 minutes
Makes: 4 – 6 portions 
Ingredients
2 tbsp sunflower oil 
2 leeks, sliced 
2 large carrots, diced 
2 garlic cloves, crushed 
200ml white wine 
400ml chicken stock 
2 tsp fresh thyme leaves 
1 medium or large chicken 
1 tbsp olive oil 
350g new potatoes 
10 fresh sage leaves 
salt and pepper
Method 
Preheat the oven to 200°C/400°F/Gas 6. 
Heat the sunflower oil in a shallow casserole dish over a medium heat. Add the leeks, carrots and garlic and fry for 3–4 minutes until softened, then add the wine and 200ml of the stock. Bring to the boil, add the thyme leaves, then add the chicken. Drizzle the chicken with the olive oil and season lightly with salt and pepper. 
Roast in the oven for 30 minutes, then add the new potatoes and the remaining stock and roast for a further 30–45 minutes, or until the chicken is golden and cooked through. 
Scatter with the sage leaves and serve.
---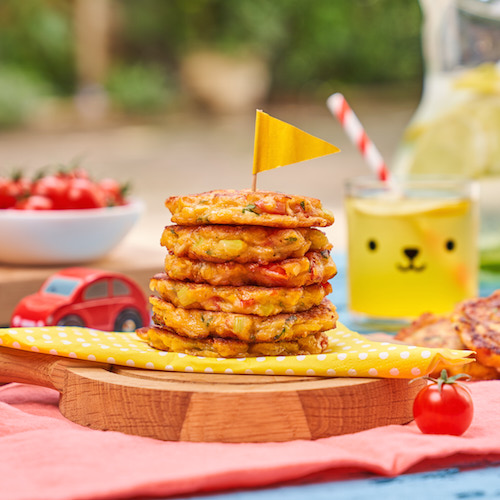 SWEETCORN & TOMATO RAINBOW FRITTERS 
Sweetcorn fritters are a firm family favourite, whether for lunch, dinner or as an on-the-go snack. They are so simple and quick to make, plus they are a great way to sneak in some added goodness to any professional veggie detectives out there!
Prep: 5 minutes
Cook: 5 – 10 minutes 
Makes: 8 fritters 
Ingredients 
100g sweetcorn 
8 cherry tomatoes, roughly chopped
½ clove garlic, crushed
2 tbsp basil, chopped 
1 tbsp sweet chilli sauce
50g plain flour
1 tsp baking powder
25g Parmesan cheese, grated 
1 egg, beaten
Method
Put the corn into a food processor. Wizz until finely chopped. Scoop into a bowl. Add all of the other ingredients and stir until mixed together. 
Heat a little oil in a frying pan. Spoon large tablespoonfuls into the pan. Spread out slightly and fry for 1 – 2 minutes. Flip over and fry for a few more minutes on the other side until lightly browned and cooked through. 
---
Compassion London: Help Annabel feed vulnerable groups and key workers
Annabel and the The Yum Yum Food Company have partnered up with chef and transformational speaker Leon Aarts and independent charity Compassion London to ensure that families, vulnerable people and key workers don't go hungry as a result of the Covid-19 pandemic.
The chefs and volunteers behind Compassion London are currently cooking and delivering thousands of meals every day - 7 days a week - to vulnerable people and key workers.
With further support and donations, this large-scale initiative will see the production of up to 5,000 nutritious meals a day for vulnerable people, struggling families and key workers across the city. 
To donate or lend your support to Compassion London, email compassionlondon01@gmail.com or visit www.compassion.london 
---